01-07-07
Quand la sauce prend c'est qu'il y a toujours les bons ingrédients!
La recette de cet International 2007 est assez simple : Skim, Sex and Fight
On pourrait évidemment vous raconter qu'Hugo a survolé les débats, qu'Ivan Ashauer est un alcoolo, que le Team Mussstach' s'était rasé le pubis pour l'occaz, que Momo est tombé in love, mais qu'il s'est aussi mangé une tarte pour son premier Euro Trip, que le mec qui a collé une mandale à Momo s'en est pris une, façon puissance 4 par l'ogre de Pessac et que tout ça s'est fait sur fond de bonnes chansons.
Mais, au poids des mots, on préférera le choc des photos!
Et, on ajoutera une dernière chose: Pas mal l'organisation ! (BNK et Skimfoutre Tour)
"Peluso, chauffe tes rillettes, l'UST 2008 va arracher le Mennen!"
All pics: copyrights Batardubreak, Unamas & Dune
Day 1: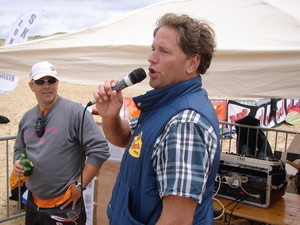 Day 2: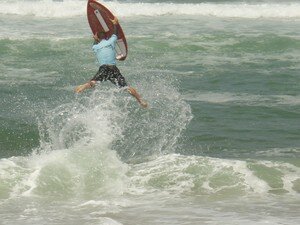 Day 3:
It's high tide u ride !!!
Bernardo
20-06-07
Pics by Skalp for Unamas skimboards

31-05-07
Pics by Andre Magarao
Spot: Niteroi, Brazil
22-05-07
Du soleil, des Redbull girls et 32 participants : Espagnols, Portugais, Français et Chilien
Pour les vagues c'était vendredi et dimanche, mais pas samedi jour de la compète...

Finale:
1-Mega (BDB moustache)
2-Janovi
3-Andre Ribero
4-Miano
5-Skalpoutre (BDB modjo)
Categorie 14 ans: Albaro Garcia (Espagne)
Categorie 18 ans: Pedro Silva (Portugal)
Meilleure femme: Maria Pinto (Portugal)
Queremos agradecer los skimers de Portugal, Francia y Chile que han venido a este 1º campeonato en Barcelona y os esperemos ver mucho mas en 2008 (y por supuesto con mas olas y redbull girls !!!!).
Pics by Booba for DUNE skimboards

14-05-07

Pics by kako & co
04-05-07
The famous spot of la pointe located at the end of the peninsula of Le Cap ferret was discovered in the mid of the 90's by the old guard from Bordeaux.
Franck Gutierrez (our Godfather), Thierry Ferron, Sam Pampliega, Oliver Harrault, Pascal Obispo & Bernard Montiel kept the secret until the first vid around 1997...
At the begining of the millenium, Le Cap ferret started to be the backyard of the dead famous Skimcrash conspiracy and became very popular through skimfests.
In fact, there is several spots, several liners and classic breaks due to the peninsula shape; all with very strong currents!
The well known spot of la pointe is quite constant between april to october, due to tide swell being smaller and also due to the great increase of steepness.
90% of the time, the wind (north-west) doesn't affect the wave and use to stay off or light side shore!
If, nowadays, many crew consider themselves as homees, no one (except maybe Oliver H) like Laurent Lozes aka Dardarmotus knows how to do endless rides on this awesome liner!
Pics by Lolo, Panda, Skimcrash, Yogan Muller...
29-04-07
Depuis que Muchu est revenu de son stage d'apprenti chicanos chez Tex, qu'il a vu 2 mecs crever au Wedge et que Scooter lui a fait bouffer du boeuf aux hormones; le Muchu colle de la barrique façon Aliso à la Courante!
Spot: La Courance
Pics: John Hérault

21-02-07
Mr Embaixador et Hugo viennent de recevoir leurs boards ZAP!
Model Boom pour Mega et Pro model Hugo pour Hugo!
Le Pro model Hugo Santos est assez similaire au Boom mais avec un pin tail plus large.
-3 qualificatifs pour ta board, Mega?
Magic, Powerfull, Futuristic
08-01-07
A trip to San Seb' means some good sider'waves but not only, this is also an appointment with good food!
San Sebastián is probably the best place to eat in Spain! This is the trendy gastronomic destination.
In the old quarter of San Sebastián, every local bar is a culinary heaven...
The Basque custom, observed in every single bar in the region, is to lay out assorted Pintxos (Basque interpretation of tapas), on the barra.
Pintxos familly is wide : red pimientos stuffed with bacalao paste, from the plump, green Gernika peppers, the garlic-speckled anchovies in oil and vinegar, the chorizos, the cheeses and chicken croquettes...etc , most of them astride on a slice of txapata or baguette.
But, if you wanna reach the paradise, order a plate of delicious morsels of the SO SICK ham:
el Jabugo
!!!
A plate of Jabugo ham is more evidence for the eyes of what is that everything you eat here is the freshest, finest quality produce. Basques are exquisitely fussy about their food...
The Batardubreak's HDQ is located in the main street of Parte Vieja at Bar La Cepa, Calle 31 de Agosto,n ° 7. See you there...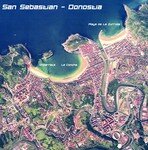 Pics by: Skalp, BDB, Lolo...