10-09-07
Grolandais, le label qualité...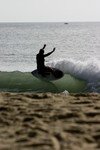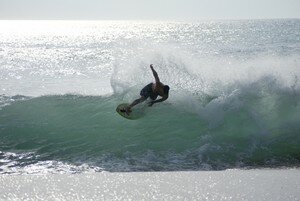 31-08-07
Sur les terres de la Skimcrash conspiracy...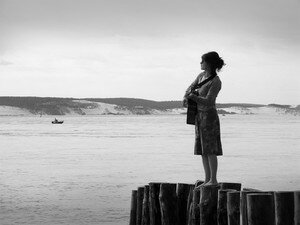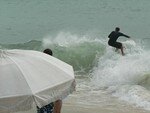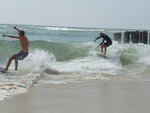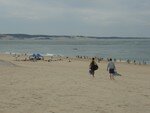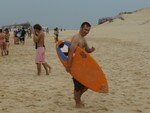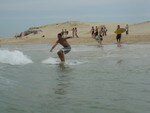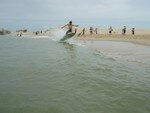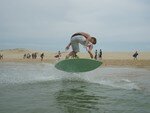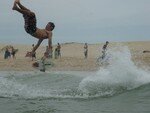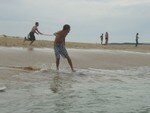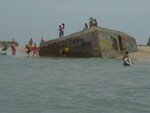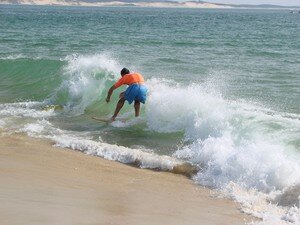 Credits pics: bdb, Margot...
06-08-07
Petit swell, p'tite chaleur, il n'en fallait pas plus pour que notre ami brésilien se mette à l'eau!
Andre Magarao découvre le Cap en compagnie de Dardarmotus, Rems, Gruss, Bushido & la Geay's familly...
01-07-07
Quand la sauce prend c'est qu'il y a toujours les bons ingrédients!
La recette de cet International 2007 est assez simple : Skim, Sex and Fight
On pourrait évidemment vous raconter qu'Hugo a survolé les débats, qu'Ivan Ashauer est un alcoolo, que le Team Mussstach' s'était rasé le pubis pour l'occaz, que Momo est tombé in love, mais qu'il s'est aussi mangé une tarte pour son premier Euro Trip, que le mec qui a collé une mandale à Momo s'en est pris une, façon puissance 4 par l'ogre de Pessac et que tout ça s'est fait sur fond de bonnes chansons.
Mais, au poids des mots, on préférera le choc des photos!
Et, on ajoutera une dernière chose: Pas mal l'organisation ! (BNK et Skimfoutre Tour)
"Peluso, chauffe tes rillettes, l'UST 2008 va arracher le Mennen!"
All pics: copyrights Batardubreak, Unamas & Dune
Day 1: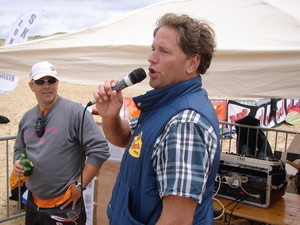 Day 2: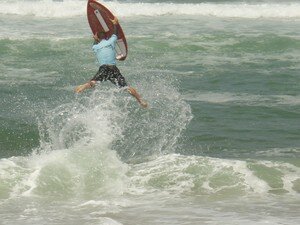 Day 3:
It's high tide u ride !!!
Bernardo
20-06-07
Pics by Skalp for Unamas skimboards

31-05-07
Pics by Andre Magarao
Spot: Niteroi, Brazil
22-05-07
Du soleil, des Redbull girls et 32 participants : Espagnols, Portugais, Français et Chilien
Pour les vagues c'était vendredi et dimanche, mais pas samedi jour de la compète...

Finale:
1-Mega (BDB moustache)
2-Janovi
3-Andre Ribero
4-Miano
5-Skalpoutre (BDB modjo)
Categorie 14 ans: Albaro Garcia (Espagne)
Categorie 18 ans: Pedro Silva (Portugal)
Meilleure femme: Maria Pinto (Portugal)
Queremos agradecer los skimers de Portugal, Francia y Chile que han venido a este 1º campeonato en Barcelona y os esperemos ver mucho mas en 2008 (y por supuesto con mas olas y redbull girls !!!!).
Pics by Booba for DUNE skimboards

14-05-07

Pics by kako & co
04-05-07
The famous spot of la pointe located at the end of the peninsula of Le Cap ferret was discovered in the mid of the 90's by the old guard from Bordeaux.
Franck Gutierrez (our Godfather), Thierry Ferron, Sam Pampliega, Oliver Harrault, Pascal Obispo & Bernard Montiel kept the secret until the first vid around 1997...
At the begining of the millenium, Le Cap ferret started to be the backyard of the dead famous Skimcrash conspiracy and became very popular through skimfests.
In fact, there is several spots, several liners and classic breaks due to the peninsula shape; all with very strong currents!
The well known spot of la pointe is quite constant between april to october, due to tide swell being smaller and also due to the great increase of steepness.
90% of the time, the wind (north-west) doesn't affect the wave and use to stay off or light side shore!
If, nowadays, many crew consider themselves as homees, no one (except maybe Oliver H) like Laurent Lozes aka Dardarmotus knows how to do endless rides on this awesome liner!
Pics by Lolo, Panda, Skimcrash, Yogan Muller...