BDB est enfin en lien sur le site kult du skim: SKIMONLINE.COM
Batardubreak - "Awesome European blog based skim site with frequent updates from our friends across the pond."
Depuis 1995, le site d'Aaron Peluso est la référence pour les skimboarders du monde entier!
Même si on ne le présente plus, Aaron est le créateur et Boss d' Exile Skimboards, le producteur de Aegis et Bearded, mais aussi l'instigateur et co-directeur de l'UST.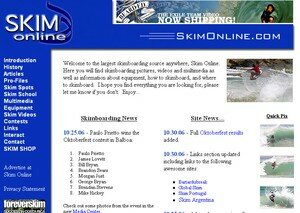 Après seulement 5 mois d'existence, BDB a l'honneur d'être classé dans la catégorie site Pro; seul site non américain!
La vérité, on a un melon gros comme les pastèques de Jack maintenant!
Au claque des BDB, un bruit court concernant un éventuel débarquement US sur les plages françaises en septembre 2007...