31 octobre 2006
Batardubreak sur Skimonline!
BDB est enfin en lien sur le site kult du skim: SKIMONLINE.COM
Batardubreak - "Awesome European blog based skim site with frequent updates from our friends across the pond."
Depuis 1995, le site d'Aaron Peluso est la référence pour les skimboarders du monde entier!
Même si on ne le présente plus, Aaron est le créateur et Boss d' Exile Skimboards, le producteur de Aegis et Bearded, mais aussi l'instigateur et co-directeur de l'UST.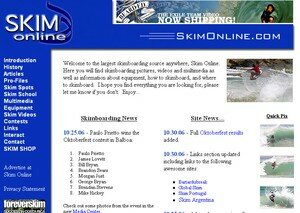 Après seulement 5 mois d'existence, BDB a l'honneur d'être classé dans la catégorie site Pro; seul site non américain!
La vérité, on a un melon gros comme les pastèques de Jack maintenant!
Au claque des BDB, un bruit court concernant un éventuel débarquement US sur les plages françaises en septembre 2007...
25 octobre 2006
Skim Port revista N°2
23 octobre 2006
BDB Portugal Trip 06
Spots: Praia Grande, Paço d'Arcos, PORTUGAL
Riders: Hugo 'magnifico' Santos, Joao 'jaydee' Dinis, Régis 'bernardo' Frachon, Remy 'rems' Dugoua, Loic 'gruss' Jacckel, Fabio Gomes.
Spot: Paço d'Arcos, PORTUGAL
Rider: Euro rider N°1, HUGO SANTOS
20 octobre 2006
Te quiero - Cabo 2006
Spot: Cabo San Lucas, MEXIQUE
Credit-editing: Doudou & Skalp from Hossegor for Grolandes Prod.
Riders: Hervé & Christine Ledoux, Pascal Maire & Sophie Free, Drew Peace, Cabo locals...
16 octobre 2006
Zap international 2006 - Santa Cruz
Spot: Santa Cruz, PORTUGAL
Credit-editing: Doudou from Hossegor for Grolandes Prod.
Riders: Hugo Santos, Joey Vavala, Joao Dinis, Jason Wilson, Mega, Matt Thibault...
Oktoberfest - Paulo +1
Paulo Prietto remporte la dernière étape du circuit UST à Balboa Pier (500m du Wedge) et confirme son statut de champion du monde.
1-Paulo Prietto
2-Jaime Lovett
3-Bill Bryan
4-BCS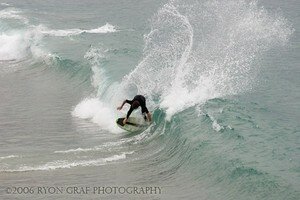 X Ray à Tahiti
Ben, ce qu'il aime, c'est l'odeur du monoi sous sa douche...
Non content, d'avoir enseigné à Dude l'art du HOW TO SKIM, Ben a décidé de montrer aux Polynésiens comment faire l'amour au corail de Teahupoo; le HOW TO WIPE!
04 octobre 2006
Paulo UST number 1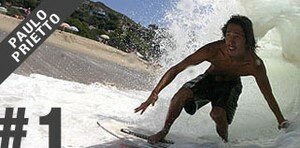 Congratulations to Paulo Prietto who locked in his second consecutive UST victory with his third place in Santa Cruz. Even with one event to spare, no one can touch Paulo this year. Bill Bryan and James Lovett also made huge strides with their top placings in Santa Cruz. James Lovett moved solidly into the second place spot while Bill Bryan moved within striking distance of third place. Second place through sixth place are all up for grabs heading into the final event of the season at Balboa.
MJ par MOZINOR
Rien à voir avec le skim...c'est bien pour ça que la rubrique CIRCUS existe.
Bon en général, c'est pas trop notre style de faire suivre les blages C-E de la poste de Liburne (hein Panda) mais là!
MOZINOR magnifie l'Art du détournement!
03 octobre 2006
Le Cap-Ferret
Spot: Le Cap-Ferret, FRANCE
Riders: Laurent 'lolo' Lozes, Olivier 'bushido' Harrault, Olivier 'guyano' Chabert, Remy 'rems' Dugoua, Loic 'gruss' Jacckel, Romain 'jed' Fraigneau...