29-07-09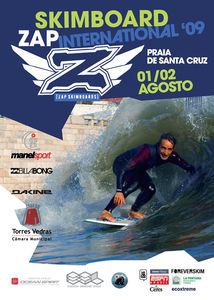 1-2 August in Santa Cruz - PORTUGAL:
Local contact: José Costa
zap.internacional@gmail.com
Cell: 00351936063121
Download the Press Release
7-8-9 in Hossegor - FRANCE:
Local contact: Hervé Ledoux
bnkskim40@yahoo.fr
Cell: 00 33 6 60 19 64 60
Guests: Tex Haines, Morgan Just & Guy Mauve

28-07-09
Contest UST ou compète roots aux Philippines,
Brésil ou Chili, mon coeur balance...
Bref, mondialisé, globalisé, que de chemin parcouru depuis les années Bodyboard Air Force.
20-07-09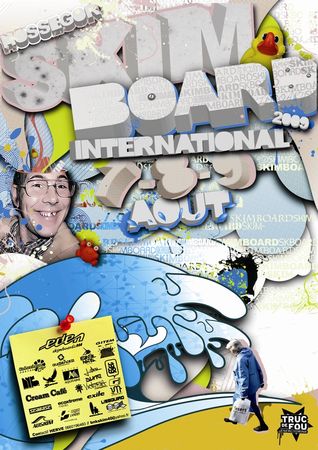 19-07-09
Zé Costa:
"We are proud to present Zap Internacional de Skimboard Santa Cruz, on August 1st and 2nd. This year's event will be put up by the same team responsible for last year's competition which had 89 competitors from six different countries."
With the support of Câmara Municipal de Torres Vedras, ManelSport, Billabong, Ceres, ESL, ContaFirme, Pizzaria La Fontana, Batardubreak and ESPN Brasil.

The prize money will be of 5000€ to be shared by the best riders competing on the Open division.
There will be free camping and entertainment for all those coming to this great event.
The competition will be divided in: OPEN and ESCALÕES
Both OPEN and ESCALÕES will be held simultaneously in separate competition areas and judged by a separate set of judges.
In the OPEN : men and women of all ages.
The ESCALÕES category will be divided into the following groups.
Juvenil: Boys under 14.
Júnior: Boys under 18
Seniores: Men over 18 and under 28.
Master: Men over 28.
Feminino: Women of all ages.
The contestants can only enter one of the divisions.
The age divisions will take into consideration the contestants age on the 1st of January 2009.
Entry fees:
OPEN: 40€
ESCALÕES: 20€
All contestants will receive the event's T-shirt.
Santa Cruz OceanSpirit Music Fest Free-pass.
To the entry fee is added a surplus of 7,5€ if the contestant doesn't have any kind of sports insurance coverage, this surplus is to pay the contestant's insurance for this event, in this case all, information regarding the competitor's identity must be correctly supplied.
Entries can be submitted at the beach in ManelSport's shack starting from July 23rd.
The entry deadline is at 24:00 of the 31st of July.
Website: santacruzoceanspirit.org
-PAYMENT :
During the whole festival in Manel Sport Shack.
The payment is to be done until 10 am of August 1st.
-CONTACTS: zap.internacional@gmail.com or
José Costa phone no.: 00351936063121
17-07-09
Axel by Rem's, the darlin'side
15-07-09
Pour faire taire les mauvaises langues qui disent que Guyano ne vient plus aux soirées...
Bruna l'amazone vous a concentré toute la puissance des rollers de l'orpailleur sur du Frankie Valli.
Session de rattrapage au store Groovy Baby.
Axel passe l'oral et obtient finalement une mention "pas dégueulasse du tout"!
14-07-09