05 avril 2010
Fréjus results
Une fois de plus la Med confirme qu'elle produit mieux que du clapot!

En finale: le "gang des tocards"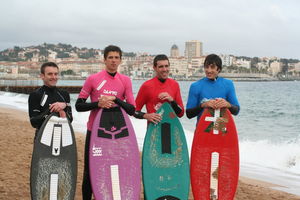 Yann Franssen
Tristan Lamy
Romain Fraigneau
Guillaume Detant
Alex
Girlz:
Cécile Franssen
Mannick Pichon
Margot Fontensky
04 avril 2010
Logorama
This is a short film that was directed by the French animation collective H5, François Alaux, Hervé de Crécy + Ludovic Houplain. It was presented at the Cannes Film Festival 2009. It opened the 2010 Sundance Film Festival and won a 2010 academy award under the category of animated short.