On a beau être fans de TTC, c'est si bon quand ils se font tailler.
La réponse côté meuf c'est Yelle, et ça colle du string!
Attention Gérard Vivès (Mr Muscle dans "les filles d'à côté") se cache dans le clip...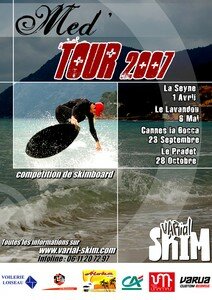 Plus d'infos sur le nouveau site de : Var'ial
10-03-07
1- A tribe called quest - Description of a fool
Back to the basics… Le bon vieux track pour cruiser downhill façon Frisco's skaters des 90's.
Du Hip-Hop old-skool super funky bien loin du gangsta Rap caca d'aujourd'hui.
2 - Bloc Party - The Prayer (remix by Does it offend you, Yeah?)
Remix plus péchu d'un morceau original qui se traîne-savate, de l'électro rock qui fait monter la pression. A écouter d'urgence dans ta Fuego avant la session!
3 - Ennio Moriconne - La resa dei Conti
Le carillon, l'orgue, la trompette, même dans 100 ans ça collera toujours autant du lourd!
Ambiance session au Ferret; Ouah les frissons...
4 - TTC feat Modeselektor - Une bande de mecs sympas
Fashion, fashion, bang, bang. Les lyrics de TTC sur le son déstructuré de Modeselektor ; idéal pour se la péter, déconner et se crever entre potes à l'apéro. Les voisines rappliquent direct;
Normal, les bâtards, une bande de mecs sympas!
5 - Midnight Juggernauts - Tombstone
Paye ta chatte direct sur le dancefloor du Pont Alexandre III grâce à ces p'tits Australiens!
Paye ta gifle à la montée... Adishatz David Guetta !
6 - Katerine - Excuse moi
Bonus track pour ceux qui arrivent à ramener une femelle panda dans la tanière.
Quelques astuces de Katerine pour ne pas rater sa purée…
04-03-07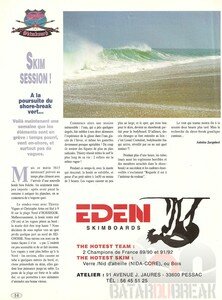 02-03-07
Sandskater British National Skimboarding Championships
Date: 14/15 April
Venue: Sennen Cove, Cornwall
23-02-07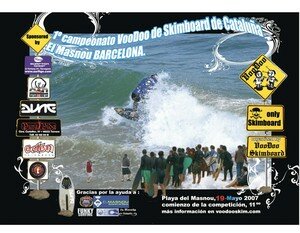 We have the pleasure to sponsor the first Voodoo AM skimboard Champ of Cataluna.
This competition is to be held may the 19-20 at Masnou beach (north of Barcelona).
------
Tenemos el placer de anunciar:
El primer campeonato amateur VooDoo de Skimboard de Cataluña!
Donde: Playa del Masnou (al norte de Barcelona).
Sabado, día 19 de Mayo del 2007, a las 11ºº !
El domingo día 20 de Mayo, Free ride day !

Plazo de inscripción el día 19 de Mayo 1 hora antes de cominenzo de la competicion (osea, a las 10ºº) , esa es la fecha limite de inscripción para poder participar en el campeonato. Coste de la inscripción NADA!! 0, GRATIS !!
Inscripción : voodooskm@gmail.com, con tu nombre, dirección, equipo (sí perteneces a un equipo) y edad.
22-02-07
Spots: Hossegor, Cap Ferret, San Sebastian, Praia azul
Credit-editing: Oliver Harrault for Groovy baby prod.
Riders: Oliver Harrault, Hugo Santos, Joao Dinis, Nicolas Thibaud, Olivier Chabert, Hervé ledoux...