'Les aventuriers de la barrique perdue'
Les BatarDuDreak traversent la jungle d'Ubatuba pour traquer du FAT et rencontrer les enfants du Sonrisal...
Toute l'épopée est dans FSM de février 2006.
It all started at the Paris' Charles de Gaulle Airport in November 2005.
Nothing original so far, but our trip will be full of treasures, mysterious cavern, giant snakes and golden shores...
In the waiting line for checking, a Brazilian stewart asked us, where were we going in Brazil?
We all replied in a single voice: "Ubatuba, man."
- "What are 10 French going to do in Ubatuba?"
No one tried to explain what was skimboarding. So we just said: 'vacation'
Despite Ubatuba is considered as the capital of surf in Brazil with its hundred of beaches stretching along the 70km coastline, my friends started to stare at me. For them the wave of Sununga only existed through my words, like a legend. Off course I had proofs, few pics from a Brazilian web site, maps, and emails exchanged with a Sao Paulo skimboarder. Plus, this guy named Piero Grieco was supposed to be waitting for us at the Sao Paulo's airport.

Once aboard the TAM airlines plane, I began to feel heavy looks on me. Everybody seemed to be questioning: "are you sure your Brazilian guy will be at the aiport?" After an 11 hours flight, we landed at Sao Paulo Guaralhos airport. There, first victory, Piero Grieco, Marcio (Dirty Money's shaper) and his girlfriend were waiting for us !
Just to picture, the little town of Ubatuba is 250km north-east of Sao Paulo and 320km south of Rio De Janeiro. We all jumped in cars and 3 hours after, we discovered our crazy house in the jungle of praia Felix. Shortly after we were catching the first waves at praia Vermelha do Norte in a warm water!
After a good night with jungle noises, our Brazilian guides took us to the Sununga's secret way.
Even if Sununga is not a lost beach, hidden behind a curtain of rain forest, there is no sign to help you find the place.
There, we met the locals from Quiosque do Meio. We didn't know at this time but Sununga's boys are like X Men:
They are all Fishermen, cook, barmen, ex-prosurfer, and riders of the famous Sonrisal.
For this first session, the swell wasn't as good as expected but we all felt the potential power of the wave!
In the following days, we explored others beaches such as Prumirin, Puruba… Over here skimboarder will find hundreds of desert beaches, not all good for skimming but each with distinctive personality and wonderful vegetation. Most of the time you have to cross the jungle to reach the different spots.
Our chicks were scared by the wildlife, especially snakes.
For us, snakes referred to another thing: the mystery of Sununga.
Sununga is surrounded with coconuts tree, legends and tales. There you find the famous "Crying Cave". The story goes that tears of virgins flow from the walls. The poor girls were offered for sacrifice to still the hunger of a giant snake living in the cave. Then a priest blessed the entrance of the cave, banishing the snake forever to the sea where it's always in turmoil.
For us, snake's turmoil means shore break and side wash!
"No fisher consciously comes close to this place, rowing more than 200 yards offshore around the spot. If he eventually dares to come closer, he, his canoe and everything else simply disappear. It happened, before, but up to now nobody ever saw this so called dragon".
At Sununga skimboarding is not a new phenomenon. It is locally called "Sonrisal" because the boards look like a giant "Sonrisal" or "Alka Seltzer" tablet. Locals ride little disks of wood. They don't do flat spin, but drop the disk like pizzaiolo in the slope and hit the wave at the most critical point. Their movements are incredible and the spray could make Mr Ashauer dead jealous... Sonrisal's goal is only to blast the lip, with an inverted body and a head skimming the ground. To make it short, it's all about going straight down and be late, very late, before the wave breaks.
Now, kids ride sonrisal and more and more use skimboards to surf the shore break. They have developed rad skills in riding skimboards.
Sons of Sonrisal are lucky, they have a world class spot!
The wave is larger than higher and sometimes big rocks on the right side of the beach produce fast liners and sidewash! During a session at Sununga, we met guys from Rio de Janeiro:
Andre Magarao, the shaper Wilson Alexandre, and the big Marcelho.
Marcelho rips the wave with a wooden skimboard. Maybe, the most impressive technique since the pros I've seen in Laguna. It was crazy how he could catch the wave without floatability. Another mystery of our quest ? Probably! Watching him doing killing rides with a woodie made me smile. I was thinking of the many forum topics: "which is the best board?"
Andre Magarao invited us to visit Rio de Janeiro.
2 days after we were in the city of Cariocas. As we arrived in the morning, we saw nice glassy shore break at Coppacabana & Ipanema. After strolling in Leblon area, we had pasteis and sucos (fruits juice), went to Corcovado, Pao de Azucar and finally caught some sunset waves at Vidigal. This beach has a huge potential for sidewash!!! Tide was too low and the bowl connection was too far for us, but spongers caught big barrels & airs.
Back to Ubatuba, for the last day we had a last and epic session in heavy and stormy conditions. As a wink, the snake would probably terrorised us a last time…
As a conclusion we would like to thank Piero Grieco Hellmeister, Andre Magarao, Roberthino Peres, Marcio Gameiro (dirty money), Julio, Crazy Fisherman, Scoubidou, Sununga Boyz, Wilson, Eduardo Medrado for the incredible hospitality and generosity of taking care of us.
There is a unique monument to visit in Brazil: Its people!
Get ready in the next coming years; we'll find Brazilians at the top level like in the Surfing Top 44. A trip to Ubatuba means hanging out with powerful shore break, a place where you still find desert beaches, wildlife, pasteis, suços and friends. The diversity of the shores of Ubatuba puts this coast among the most beautiful places of our planet…
Brazil is 7400km coastline, with a high potential of shore break and desert skim-spots, it's only a piece of other treasures!
Once upon a time, in the kingdom of "Grosland"...
A Tournament of Knights coming from all the old Europe.
15-06-06
Spot: Praia Azul, PORTUGAL
Team Moustache à l'oeuvre!
Slot Stik World Champs 2001.
8-9 sept 2001, Deer Creek & Point Mugu.
Starring: Bill Bryan, Brad Evers, Paulo Prietto, George Bryan, Grady Archbold, Jason Wilson, Jaime Lovett, Kai Bond, Miles Grobman, Adrian Prince, Afroman...
Une pente sauvage, un shore-break carnassier, une ambiance white-trash, l'édition 2001 est entrée dans les annales! Des membres des BDB étaient sur place pour vous rapporter quelques images 'perdues'.
14-06-06
[URL=www.skimboard.com]essai[/URL]
Intro de la rubrique des amis du sonotone.
Badaboom le son des bâtards, la sono du padre distille du son à fond dans les cages en métal.
La zik qui réveille papi, endort mamie, fait danser les bitchs et chialer les tatoués.
Lourd comme un pâté impérial, léger comme une plûme dans le cul, la playlist des bâtards t'éclate ta tête de connard!
Quand la basse tabasse, quand la caisse fracasse, mange mon beat dans ta face!
CD, vinyle, mixtape, Maxi, E.P, L.P tout pour dépoussiérer le boomer de ta R5 et tâcher les cuirs de la Laguna de papa. Accroche toi…. Balance le son ducon!
Une Cronik sur TTC va bientôt te nettoyer ta cire de porcin mal récuré!...
C'est l'histoire d'une vidéo qui n'est jamais vraiment sortie...
4 ans de réflexion, de K7 perdues, d'annonces fracassantes pour au final quelques abracadabrantesques séquences de skim urbain qui font pchhhhhhht! Laguna 2001, Paris 2003.
07-06-06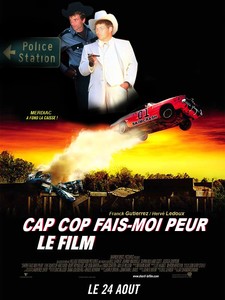 En 2001, deux gars du Sud-ouest, portés sur le white-russian, la vitesse, le balmusette, le skim et la bagarre faisaient une entrée fracassante sur le net; Les très remuants cousins Bo Lolo et Luke Dude.
On appelait ces deux allumés les "Dukes of Ferret" en référence au Comté dont ils étaient les "stars" incontestées. La Vomito attitude bénéficia d'un engouement immédiat… et croissant.
Ainsi va la vie... jusqu'au jour où un politicien véreux, "Doud" Hogg, décide de faire main basse sur le spot des Dukes et les terres du Comté Ferret Capien... Pour gâcher la fête des 2 écervelés, Doud Hogg engage le redoutable Cap Cop Gut. Surnommé le singe hurleur du Poitou, il n'aura de cesse de s'embourber sur les route merdiques du Truc Vert.
Durant 4 ans, leurs exploits et leurs gags alimentèrent pas moins de 147 updates de cette série rurale, connue chez nous sous le titre "Cap Cop, fais-moi peur". Lolo et Dude, leur Twingo tous terrains "Général Rondot", leur charmante cousine Kako aux shorts ultracourts, l'esprit rebelle, et chaleureux du Sud-Ouest, les poursuites échevelées qui rythmaient chaque épisode … résonnent dorénavant comme un échos lointain d'une époque où Cyril. M n'était pas encore à la retraite...