11-03-07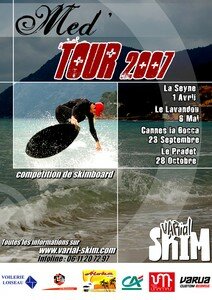 Plus d'infos sur le nouveau site de : Var'ial
04-03-07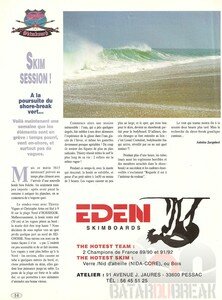 02-03-07
Sandskater British National Skimboarding Championships
Date: 14/15 April
Venue: Sennen Cove, Cornwall
23-02-07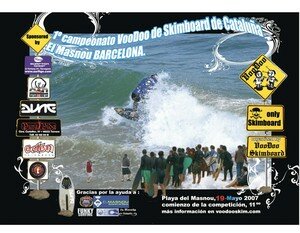 We have the pleasure to sponsor the first Voodoo AM skimboard Champ of Cataluna.
This competition is to be held may the 19-20 at Masnou beach (north of Barcelona).
------
Tenemos el placer de anunciar:
El primer campeonato amateur VooDoo de Skimboard de Cataluña!
Donde: Playa del Masnou (al norte de Barcelona).
Sabado, día 19 de Mayo del 2007, a las 11ºº !
El domingo día 20 de Mayo, Free ride day !

Plazo de inscripción el día 19 de Mayo 1 hora antes de cominenzo de la competicion (osea, a las 10ºº) , esa es la fecha limite de inscripción para poder participar en el campeonato. Coste de la inscripción NADA!! 0, GRATIS !!
Inscripción : voodooskm@gmail.com, con tu nombre, dirección, equipo (sí perteneces a un equipo) y edad.
22-02-07
Spots: Hossegor, Cap Ferret, San Sebastian, Praia azul
Credit-editing: Oliver Harrault for Groovy baby prod.
Riders: Oliver Harrault, Hugo Santos, Joao Dinis, Nicolas Thibaud, Olivier Chabert, Hervé ledoux...
21-02-07
Mr Embaixador et Hugo viennent de recevoir leurs boards ZAP!
Model Boom pour Mega et Pro model Hugo pour Hugo!
Le Pro model Hugo Santos est assez similaire au Boom mais avec un pin tail plus large.
-3 qualificatifs pour ta board, Mega?
Magic, Powerfull, Futuristic
17-02-07