05-06-12
Notre ami Andre cartonne toujours dans la "Nouvelle Star" version Muuuustach'.
Il se produira sur la mythique scène du Quiosque de Sununga en compagnie de Divino Santos début 2013 lors de la super kermesse.
03-06-12
la classique vidéo du Classico.
Joli montage, hélas la musique est pourrave...
Toujours de la pure action mais un peu moins fat que les précèdentes éditions.
01-06-12
Notre père, frère, ami et serviteur la Peloose se colle au CR de la réunionite du séminaire UST de Los Cabos.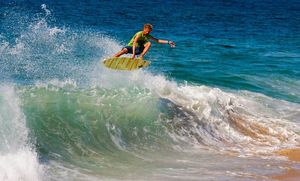 By Aaron Peluso
2011 UST champ Sam Stinnett started off the 2012 season right by taking the top spot at stop #1 on the 2012 UST Tour. For the first time ever the contest took all three days of the waiting period to run as the wind in Cabo this year was unusually strong. Heats ran in the first few hours each morning before the wind got too strong and it was a huge benefit to have all three days to work with. Conditions during the competition were actually quite good as you can see from the photos. The waves were not huge but head high waves were semi abundant and perfect waist high waves were everywhere...Click here to read more
30-05-12
Pour ceux qui hésitent encore à prendre leurs billets pour Sununga 2013...
Dans la famille boucher, voici le p'tit frère Tyler.
On se souvient de son ainé Mike qui faisait pas dans la dentelle au début des années 2000.
Mikey les gros tuyaux avait quand même gagné la Vic en 2002!
27-05-12
Toujours aussi sale le gamin du pharmacien...
22-05-12
et la version remix
21-05-12
Sam Stinnett

Paulo Prietto

Bill Bryan

Blair Conklin