27-08-12
5/8" Epoxy Carbon Medium Light Weight // Light Finish.
Rounded Nose and Tail. Boxy Rails, Slightly more tapered towards the Nose.
2" Nose Rocker // 1/16" Tail Rocker.
Viper Red and Medium Gray.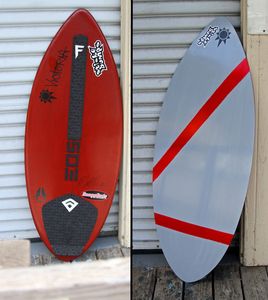 29-06-12
Cette année encore, on pourra mater la "VIC" en live!
06-06-12
Blair Conklin
Brad Domke
Sam Stinnett
Morgan Just
De la très bonnes barriques en Go Pro...
30-05-12
Dans la famille boucher, voici le p'tit frère Tyler.
On se souvient de son ainé Mike qui faisait pas dans la dentelle au début des années 2000.
Mikey les gros tuyaux avait quand même gagné la Vic en 2002!
27-05-12
Toujours aussi sale le gamin du pharmacien...