06-06-12
Blair Conklin
Brad Domke
Sam Stinnett
Morgan Just
De la très bonnes barriques en Go Pro...
01-06-12
Notre père, frère, ami et serviteur la Peloose se colle au CR de la réunionite du séminaire UST de Los Cabos.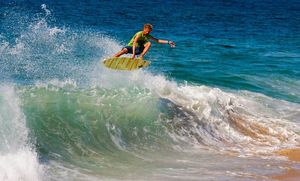 By Aaron Peluso
2011 UST champ Sam Stinnett started off the 2012 season right by taking the top spot at stop #1 on the 2012 UST Tour. For the first time ever the contest took all three days of the waiting period to run as the wind in Cabo this year was unusually strong. Heats ran in the first few hours each morning before the wind got too strong and it was a huge benefit to have all three days to work with. Conditions during the competition were actually quite good as you can see from the photos. The waves were not huge but head high waves were semi abundant and perfect waist high waves were everywhere...Click here to read more
31-03-12
Laguna Beach, CA - 7/8 of July
Outer Banks, NC - 28/29 of July
Vilano Beach, FL - 24/25/26 of August
Santa Cruz, CA - 15/16 September

Newport Beach, CA - 6/7 of October
22-03-12
Je dis ça, je dis rien mais si j'étais à votre place
je commencerais déjà à coller du RTT pour un tire à 50 mètres entre mi février et fin mars 2013...
Selon les milieux autorisés, il semblerait que le plus grand cabaret du monde veuille poser sa caravane sur le side le plus célèbre de l'hémisphère sud.
Il se pourrait même que les meilleurs élèves européens de l'année scolaire 2012
soient invités à la kermesse sans passer par la carte Cofinoga.
Bref, si j'étais compétiteur sur le circuit ESL, je me sortirais très fort les doigts...
On se donne rendez-vous dans 1 an place des Grands Hommes à Ubatuba !
29-11-11
L'ami Bomboliner nous régale avec cet épisode où Mega et Doud sont plus vrais que nature...quant à la remise des prix, ça se passe de commentaire.